TORCHES & HEAD LAMPS, (LED torches),
Videoscope camera, portable video inspection camera
CLICK HERE TO SEE THE "Precision" RANGE OF LIGHTS AND TORCHES
CLICK HERE TO SEE THE "Suprabeam" RANGE OF LIGHTS AND TORCHES
Please follow the links provided to see the best range of LED torches, work lamps & rechargeable lights & torches to suit your head or budget..
| | | | |
| --- | --- | --- | --- |
| | | | |
| | | | |
VS-1000 Portable Video Inspection Camera 72 x 54mm Colour Screen

Description
The new revolutionary tool for examining hard to reach places. The 1 metre flexible cable with LED lights on either side of the camera lens that provides a clear image in even dark places.
Perfect tool for inspecting inside engines, gearboxes, Machinery and other hard to reach places on concealed areas.

Features
• 72 x 54mm colour screen (W x H)
• 1 metre flexible cable with 12mm dia. IP67 camera head and LED lighting
• LED brightness control
• Image rotation control
• Image zooming control
• IP54 main body rating
• Comfortable hand grip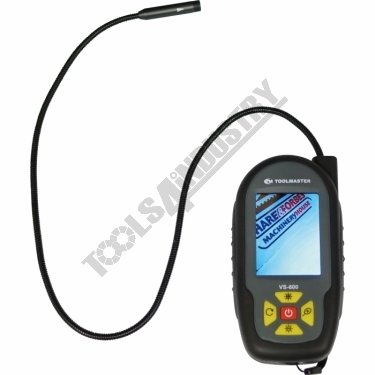 VS-600 Portable Video Palm Inspection Camera 53 x 40mm Colour Screen, 600mm Cable Reach
Description
The VS-600 4 x image zoom palm scope inspection camera with IP67 waterproof rating has been design as a user friendly and economical way of solving hidden problems that increases productivity. E.G. inspect vent pipes & air condition systems, machine equipment engines & so on.

The VS-600 has a 53 x 40mm LCD screen, equipped with a 9mm camera probe head on a 600mm flexible cable. The camera head has 4 x LED lights that brightness can be adjusted, it also includes several accessory to clip onto camera head, 1. Magnetic tip, 2. Mirror tip, 3. Hook tip & 4. Thread protector.

This unit also features a unique 180º image rotation allowing you to view awkward images in the correct up right view. The camera cable is stored away in side the clam shell type cover for safe & easy storage.
Features
53 x 40mm (320 x 240 pixels) colour screen (H x W)
9mm diameter camera head with LED lighting
IP67 water proof rating
Comfortable hand grip
4 x Image zoom
180º Image rotation
4 x Led lights
On screen low battery icon
CE & RoHS compliant
Drop proof - 1M
Weight 250G
Includes
600mm flexible cable
Pick up hook
Magnetic pick up tool
Mirror tool
Thread protector
Nylon pouch with belt clip
4 x AAA batteries