MAGNET BASE DRILLS
CLICK HERE TO SEE OUR "Annular Cutters" PAGE
PLEASE CHECK OUT THE HUGE RANGE OF HOLEMAKER MAGNET BASE DRILLS HERE
Holemaker is Australia's leading brand of magnetic base drilling machines and cutting tools. Our complete range of premium European made magnetic base drills are manufactured to the highest standards, and are designed to withstand the most demanding industrial environments all day every day. The Holemaker brand includes a wide range of industrial cutting tools including annular cutters, sheet metal cutters, drill bits, bi-metal holesaws, TCT carbide holesaws, step drills, countersinks and carbide burrs. Miller's Tooling represents & distributes Holemaker products all over Australia wide.
Holemaker is manufactured in Europe and backed by 30 years in the industry, you can trust that our magnetic drills are reliable, built to last and specifically suited for heavy-duty applications.
Whatever diameter or depth capacity you need when drilling into your material, we have machines that have a diameter capacity from 35mm to 200mm and depth ranging from 25mm to 400mm.
ABOUT MAGNETIC BASE DRILLS
A magnetic base drill (also known as a mag drill) is a portable power tool featuring an electromagnetic base that can be secured to a piece of steel. This helps to keep the magnet base drill stable, secure and precise while drilling through the steel. A magnetic base drill can be used in a workshop or on the job site. When drilling into metal, a magnetic base drill will stay perfectly aligned over the hole providing 100% accuracy every time.
Magnetic base drill machines can be electric, pneumatic or hydraulic. Electric magnetic base drills are by far the most popular due to their lightweight, cost effective and compact design. Pneumatic magnetic drills use compressed air to power the drill while hydraulic magnetic drills are useful underwater thanks to a closed loop powered system.
Although a magnetic base drill can be bulkier than a conventional drill, it is very safe to operate when working with metal due to its stability. Magnetic drills are also available in a range of sizes and with a wide degree of features such as smart control, coolant and swivel base systems just to name a few.
When choosing the ideal mag drill for your application, you must consider the diameter and depth of the hole you will be drilling, the drilling speed requirements you need, the environment you will be working in as well as the type of material you will be drilling.
If you are looking for a dependable magnet base drill machine that will provide a precise and smooth drilling result when working with metal, a magnetic base drill is your best choice.
HOW TO USE MAGNETIC BASE DRILLS CORRECTLY AND SAFELY
As with any other tools or machinery, when operating your mag base drill, you must remember to wear a face shield and gloves to protect yourself while on the job. Before securing your magnet base drill to the metal service, check your surface is free of chips and debris. After a hole has been drilled with the magnet base drill, turn off the motor, eject the slug and clean the chips and debris away from the work area and under the magnet. Also, ensure the cutter is not dull because it could contribute to pushing the magnet off the work surface.
It is also necessary to use a safety strap or chain while drilling or cutting, especially if the mag drill is positioned in a horizontal or upside down position. This will protect both yourself and the magnetic base drill itself. A magnetic base drill should also not be used while others are welding the material at the same time, as it can cause the circuit board and magnet to short out.
Adapt your drill press or lathe to use Holemaker Annular Cutters
These arbors are designed to adapt conventional machines eg. drill presses, lathes, milling machines and others to accept Holemaker Annular Cutters. This becomes a very economical alternative to normal methods of drilling or boring large diameter or deep holes. By adding an extension arbor and long series annular cutter to your industrial arbor, you can achieve depths of up to 320mm in hollow section steel. Time savings in excess of 40% over normal drilling methods are not unusual.
---
HF-35 Portable Magnetic Drill Ø35mm Drill Capacity
Description
Manufactured in Taiwan

Hafco Magnetic base drills are designed to meet productivity & safety expectations

On-site hole cutting in steel plates, H-Beams shaped bars, framework, ship building, bridge construction and repair, steel reinforcements, and many other metal working and construction jobs.

NOTE: Shown with optional broach cutter
Features
Compact design with heavy duty magnet
Drills up to 35mm diameter through 50mm plate
Sturdy feed handles
Includes drill chuck and adaptor for use of twist drills up to 12mm diameter
CE approved
Includes
Coolant tank kit
Safety chain
13mm drill chuck and adaptor
Blow mould plastic case
---
HF-750 Portable Magnetic Drill - 3MT Ø75mm Drill Capacity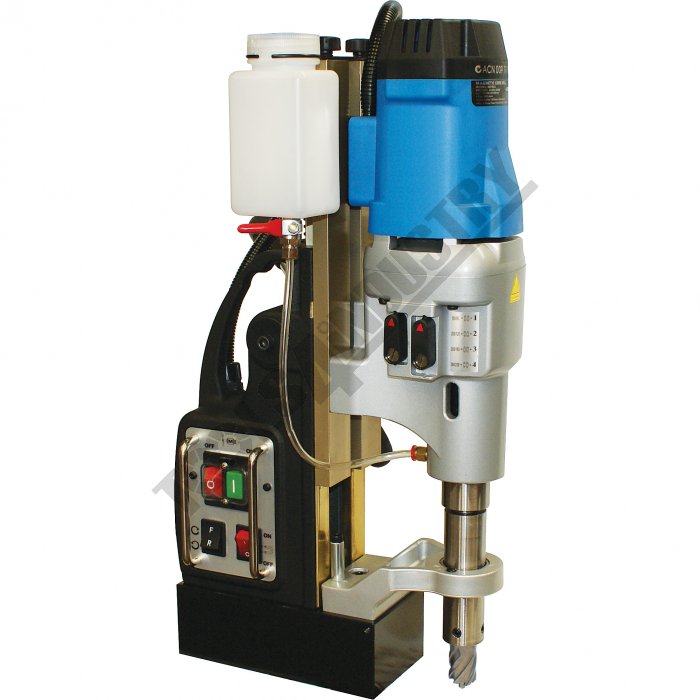 Description
Manufactured in Taiwan

On-site hole cutting in steel plates, H-Beams shaped bars, framework, ship building, bridge construction and repair, steel reinforcements, and many other metal working and construction jobs.

Hafco offers a full line of robust and versatile magnetic drilling machines built specifically for the hole making needs of various industries. Applications include fabrication, industrial and civil construction, maintenance, ship building and many others.
This large No. 3 morse taper four speed model drill, has the versatility of using either broach cutters or taper shank drills. It is manual feed and has forward and reverse to make it suitable to be used as a tapping machine.
This model features a purpose-built mag drill motor. This is designed to have the ideal torque characteristics to produce the best performance and durability for heavy-duty industrial use.

NOTE: Shown with optional broach cutter
Features
3MT spindle taper
19mm shank broach holder & bracket
4-speed gearbox
Full load speeds: 90, 120, 180, 230rpm
1800W 240V motor
Forward/reverse for tapping
Ø75mm drilling capacity through 50mm plate
Bronze dovetail slides
Can be used with 3MT drills up-to 31.5mm
CE approved
Includes
3MT spindle taper
4 speed gearbox
Coolant tank kit
Safety chain
Blow mould plastic case
---
HFLP-35 Portable Magnetic Drill - Low Profile Ø35mm Drill Capacity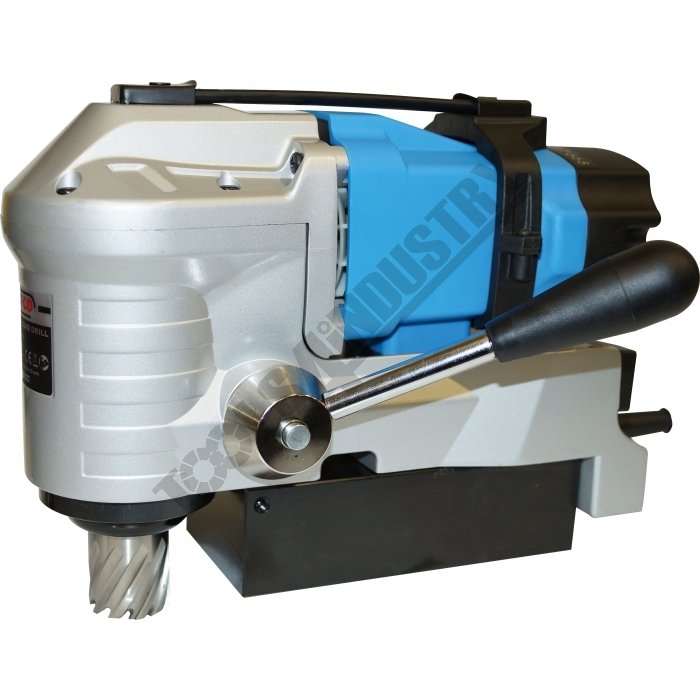 Description
Manufactured in Taiwan

"New Low Profile Magnetic Drilling Machine" is designed to can enter spaces impossible to reach with a conventional magnetic drill as the total height is only 200mm.

On-site hole cutting in steel plates, H-Beams shaped bars, framework, ship building, bridge construction and repair, steel reinforcements, and many other metal working and construction jobs.

NOTE: Shown with optional broach cutter
Features
Low profile & compact with heavy duty magnet
Drills up to 35mm diameter through 35mm plate
LED work light help locate drill centre in dark areas
Quick action broach drill lock release chuck mechanism
Sturdy carrying strap fixed to unit for convenient positioning
Sturdy feed handle with quick release can be used on left or right side of machine
285 x 101 x 200mm (L x W x H)
CE approved


Includes
Blow mould plastic case
Chip guard
Safety strap